Today, October 18, 2022, there are 1,339 political prisoners in Belarus. Although this number has long become an indicator of the human rights crisis for Belarusians, many still have a question:
1339 is that a lot? If yes, how many?
To answer that, we decided to look at how the number of political prisoners has grown over the past two years.
A political prisoner is a person whose imprisonment is related to politics, restriction of the right to freedom of speech, conscience or religion. In case of Belarus, every person who was not afraid to publicly express his opinion and was arrested for it.
In January 2020, there was only 1 political prisoner in Belarus – Mikhail Zhemchuzhny.
In June 2020, at the peak of the election campaign, there were 22 political prisoners. Among them are Siarhei Tsikhanouski, Igor Losik, Viktor Babariko.
At the time, Vesna called it a "crisis of human rights." Since then, the number of political prisoners has grown 60-fold.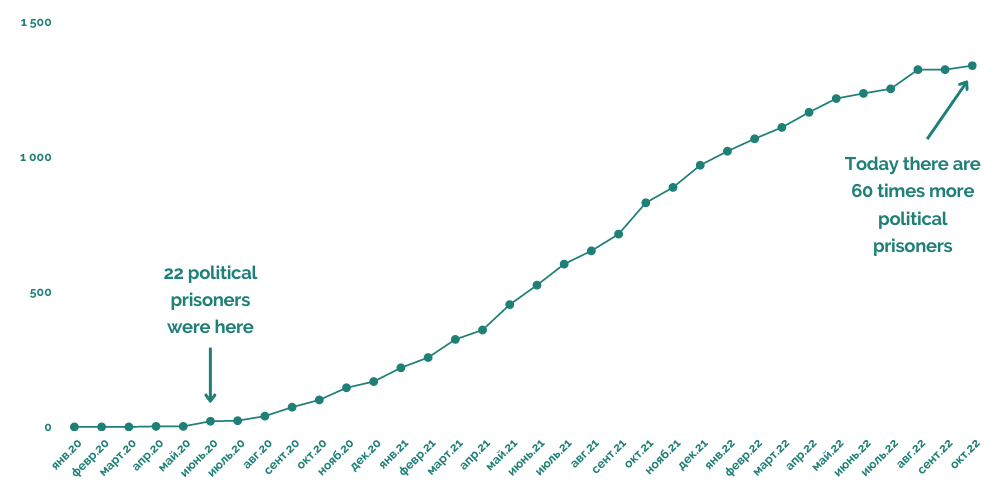 How many political prisoners are there in other countries?
But maybe 1339 people is not much compared to other countries? Let's see how many political prisoners there are in Russia, Venezuela and Kazakhstan.

The regimes of these countries are just as far from democracy as the Belarusian one. At the same time, there are many times fewer political prisoners there.
In addition, it is important to remember that only 9 million people live in Belarus. While, for example, in Russia – 144 million. This means that not only the total number, but also the percentage of the repressed population in Belarus is much higher.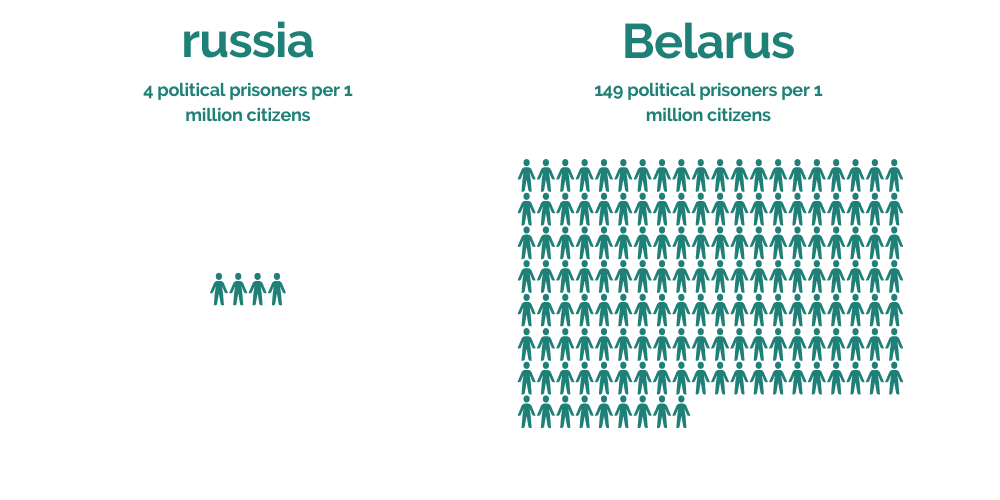 What is the conclusion?
1339 political prisoners is a huge number. At the same time, the recognition of a person as a political prisoner does not happen immediately and not always – there are many cases, and the materials of some of them are often inaccessible to human rights activists.
It is very likely that there are even more political prisoners in Belarus.
How can I help?
Faced with such a flagrant violation of human rights, it is very difficult to remain on the sidelines. If you have a desire to help, we have collected 10 services through which you can implement it.
Politzek.me is a pen pal friendship service. Through tags on the site, it is easy to find a person with similar interests. Don't know what to write about? Use the letter builder!
Do you want to send a letter, but you are not in Belarus yourself? Do it online through the site Pismo.bel.
Checkered Letters is a similar service, but it's free.
The DISSIDENTBY initiative helps political prisoners and their families. Through the filters on the site, you can see who needs help with things, groceries, or finding a job.
You can donate money to help the victims through the Country for Life Foundation.
Through GetDonate.
Or through the BYSOL Foundation.
You can help provide medical care through the Littouwin Lions Club platform.
And through AvocadoHelp – to pay for a lawyer.
The PROBONO.BY initiative helps in all areas. To support, share them on social media.
And if you yourself are a political prisoner, be sure to contact us so that we document your story. We are working to ensure that none of those responsible for your imprisonment go unpunished!